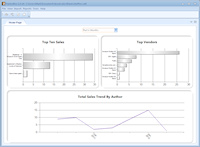 TrackerBox requires Windows XP SP3 or later (Vista/7/8/8.1/10) and version 4.0 of the Microsoft .Net Framework to run. You can download the .Net Framework from Microsoft if you do not have it already. If you are running Windows XP, you will need to install Service Pack 3 and .Net 3.5 before installing .Net 4. You can get the service pack from Windows Update.
Download the .Net 4 installer here.



In case you haven't seen it already, here's the feature bullet list:

Import sales reports from without having to manipulate them in a spreadsheet

Amazon KDP
Barnes & Noble Press
PubIt
NOOK Press
Kobo Writing Life
Apple iBookStore
Smashwords
CreateSpace
Lightning Source/IngramSpark
All Romance eBooks
DriveThruFiction.com
Overdrive
Amazon Vendor Central
Draft2Digital
Google eBooks
ACX
BundleRabbit
Lulu
XinXii
Pronoun
Streetlib

Support multiple Authors and Pen Names
Track sales for every title and chart your sales and income progress
Group and sort reports by any column
Apply parameters to the reports, including selecting mulitple titles, authors, and/or Vendors
Export reports to XLS, PDF, CSV and HTML
Run multiple reports and see them side by side
Free 45 day trial
The download comes with an unrestricted 45 day free trial. When you purchase TrackerBox, you will receive a key that will allow you to continue using it for as long as you like.
Latest Version

Added support for an older KoboPlus report
Added an error message to the Amazon KDP importer for "Old Format" files generated for dates after Amazon's old format deprecation date (October 2016).
Fixed a bug that left temporary files in the application data folder after importing Apple and Kobo reports.
Fixed an issue with the latest versions of ACX Bounty reports
Added support for the latest version of Streetlib reports
Added support for the latest version of Smashwords reports
Previous Version Release Notes